Military Officer's Atlas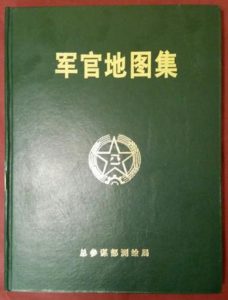 Description: A Chinese reference book, designed as a library or desk reference for officers in training or professional military education.  A foreword citing the 7th five-year plan for "All-Army" (entire military) military science research (全军军事科学研究 "七五" 规划) as impetus for this edition, signed in 1992 and another foreword by the editing team dated 1991 are the only dating information available.

This atlas begins with solar system and global data on the earth.  Has civil and military specific charts that include political information, resource information, campaign maps from several conflicts, population data, etc.
Particularly interesting charts include:
A map depicting the Invasion of China by Foreign Militaries since 1840 [1840

年以来外国军队的入侵

];

Charts of Chinese territory occupied or taken by bordering countries;

A chart listing Regional Wars and Conflict since the Second World War [through 1989];

Details charts of the Falklands War;

Charts depicting the history of the Chinese revolution over time,

Charts of the Liberation of China (1947-1951);

Breakout charts for the major campaigns (Liao-Shen, Huaihai, etc.,), etc.
军官地图集
Military Officer's Atlas
总参谋部测给局
Bureau of Mapping and Survey, GSD
350 pages / plates
(No publication or distribution data, made during the 7th Five Year Plan (1991-1995)